Home
Bowser Globes

Golden Fleece

Mobil

Shell

Texaco
Garagenalia

Ned Kelly

Golden Fleece Mini
Australian Made

PICK UP FROM
Dynaplas Pty. Ltd.
45 Wellington Street
RIVERSTONE NSW 2765
SYDNEY AUSTRALIA
Ph: +61 2 9627 5944
Dynaplas Pty. Ltd.
26 Corbould Rd
COOLUM BEACH 4573
QUEENSLAND AUSTRALIA
Ph: +61 7 5324 1557
Or Call for a freight quote
0423 786 323
sales@dynaplas.com.au

Vintage Reproduction
GOLDEN FLEECE RAM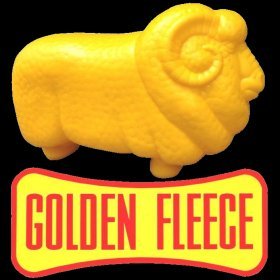 ---
This Golden Fleece replica ram is roto moulded in Australia by Dynaplas. At Dynaplas we have been Roto moulding the Golden Fleece Yellow SINCE 1980 when we matched the colour to fit their trucks / oil tankers. The Golden Fleece Ram has been manufactured from UV stabilised virgin polyethylene and was first made to put on vintage petrol bowsers. When we did Research and Development we found that other repo's did not spend much on their tooling. After spending well over $8,000 on our design and mould we are confident that our repo is the best on the market having the cleanest seem line. The original Golden Fleece Ram was made from cast iron. Now you are able to light up the ram which really brings some bling to an old icon.